The OAFC has VISTAs placed in clinics around the state as well as our main office. VISTA members assist clinics in fundraising, grant writing, volunteer recruitment, electronic medical record implementation, and community promotion. They are valuable assets, tackling projects that the clinic or association may not have time or resources for otherwise.
Meet our year-long members below!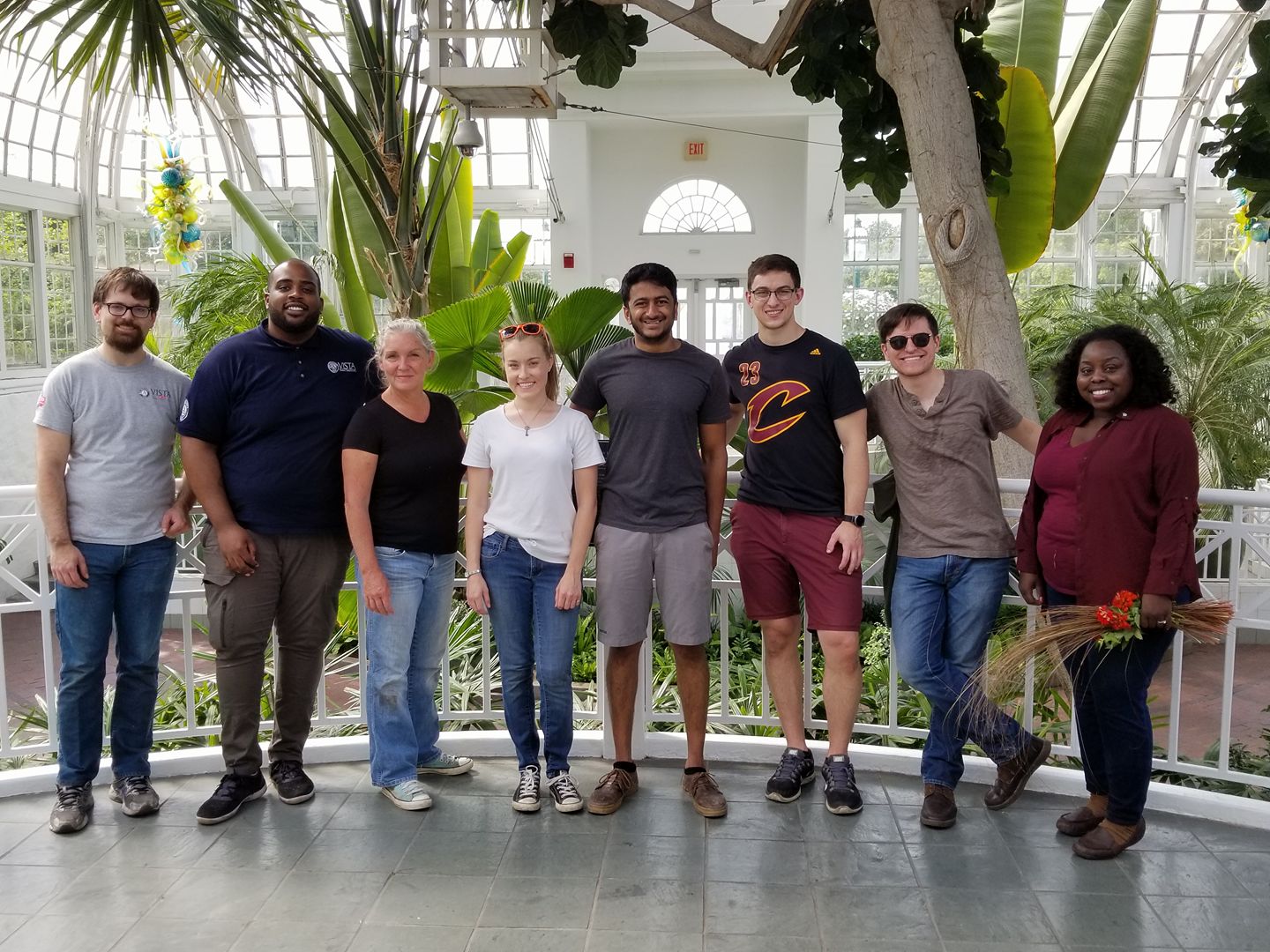 Yearlong VISTA Members
Michael L. Paquet - Earth Angel Farm

Mike is a native of Northeast Ohio and is a rather non-traditional AmeriCorps VISTA member working with developmentally and physically disabled individuals at Earth Angel Farm in Trumbull County. He has taught classes on political science and urban studies at the University-level for some time and is interested in building and increasing capacity of beginning farmers through an initiative that promotes agricultural skills in at-risk populations.

Haley Coleman - SOAR Student Run Free Clinic

Haley graduated from the University of Akron and during her first two years as a medical student at Northeast Ohio Medical University, she worked with several peers to plan and launch SOAR Student Run Free Clinic in Rootstown, OH. The clinic opened in September 2016. Haley is excited to dedicate herself full time this year to serve as an AmeriCorps VISTA at SOAR Student Run Free Clinic to ensure the clinic have the necessary attention to thrive. She is extremely excited to use her passion for people to continue learning how to best tackle the healthcare problems facing rural, underserved area residents of Portage County. She aims to use the skills she gains to better serve her patients in her future calling as a physician.

Aaron Grady - OAFC

Originally hailing from Cleveland, OH Aaron will be carrying out his VISTA work in the OAFC Office. As recent Computer Science graduate from Kentucky St. University, he chose the AmeriCorps VISTA program to gain experience in the nonprofit sector which he plans to continue his career in.

Patrick Creedon - OAFC VISTA Leader

Patrick Creedon grew up all over the eastern half of the United States, eventually going to high school in St. Louis and studying Psychology and Women and Gender Studies at the University of Tulsa. After graduating, he briefly studied Quantitative Psychology at OSU where he taught statistical computing. Patrick spent the previous year at the Ohio CDC Association as a VISTA where he assisted in their case development and social enterprise initiatives. He is now beginning his position as VISTA Leader with the Ohio Association of Free Clinics. Patrick enjoys cooking, reading about politics and nonprofits, and spending time with his partner's cats.

Sachin Jindal - Chagrin Falls Park Community Center

Sachin Jindal is an Americorps VISTA currently serving at Chagrin Falls Park Community Center in Chagrin Falls, Ohio. He was raised in Toledo, Ohio and recently graduated from the Ohio State University where he majored in Environmental Public Health. After completing his service, Sachin hopes to use his experience as a VISTA to advocate for inclusive and preventative health care systems. Additionally, he is interested in music, politics, and basketball.

Ryan Russell - OPEN M

Ryan is the AmeriCorps VISTA at OPEN M Clinic in Akron, Ohio. Born and raised in Akron, Ryan graduated from the University of Akron with a Biochemistry degree in December 2016 and is currently applying to medical school. As a VISTA at OPEN M Clinic, he is working to increase the capacity of the clinic to provide quality medical care for the uninsured. In his free time, Ryan enjoys weightlifting, snowboarding, and spending time with friends and family.

Brian Cornwell - UHCAN

Brian Cornwell attended The University of Akron where he obtained a Bachelor's degree in Anthropology. During his time at The University of Akron, he interned in the Physical Anthropology lab at the Cleveland Museum of Natural History. He was lucky enough to learn what it was like working in a museum and how to handle and repair skeletal remains. He is excited to serve as a VISTA.

Abi Hubacher - Asian American Community Services

Abi Hubacher is from Columbus, Ohio. Born and was raised a buckeye. She attended the Ohio State University, majoring in Biochemistry with research distinction and minoring in Medical Humanities. She previously worked as a lab assistant at Battelle Memorial Institute and a private organic chemistry tutor at OSU. She is also an active volunteer at her church's youth group and worship band. She enjoy playing board games with friends and hiking in her free time.

Abbe Turner - Earth Angel Farms

Abbe is the milkmaid at Lucky Penny Farm, her family goat dairy, in Garrettsville, Ohio, and the cheesemaker at Lucky Penny Creamery in nearby Kent. She studied her craft at the University of Wisconsin-Madison, Pennsylvania Association of Sustainable Agriculture. She is passionate about the farm to table movement and brings that energy to the nature-based therapy groups she oversees at Earth Angel Farm.